Introduction
With a market share of over 80%, Google Analytics is the unrestricted industry leader when it comes to digital analysis. No wonder: The tool is free and – like everything at Google – extremely user-friendly.
But technologies such as ad and cookie blockers as well as misconfigurations hinder data collection and reduce data quality. Depending on the industry by even up to 10-15%.
That has always been the case, and it's okay, because web analytics is not an exact science. Rather, it is about recognizing trends and deriving insights and measures.  
Unfortunately however, the gap increasingly widens because of so-called browser tracking preventions, which drastically reduce the data quality in Google Analytics & Co.
---
UNRELIABLE CLIENT-SIDE DATA TRACKING
More than 30 % of tracking data is lost to Ad-Blockers, Tracking Preventions, and Misconfiguration.
Your tools don't work well with bad data. Bullshit in, bullshit out!
---
Incorrect data leads to distorted results and, in the worst case, even to wrong (marketing) decisions.
Let's take a look at that right now with some numbers. 
For a better understanding, here is a short explanation of ITP & Co:
This is what Safari's Intelligent Tracking Prevention (ITP) & Co. mean for web analytics 
In 2017, Apple first announced that Safari's Intelligent Tracking Prevention (ITP for short) would block client-side third-party (3rd party) cookies.
Important:
ITP is active by default for millions of Apple users since iOS 11 and macOS 10.13! 

At the beginning of 2019, Apple went even one step further and took measures that have a serious impact on advertising and marketing services, including Google Analytics. As of ITP 2.1, the duration of 1st party cookies that are set via JavaScript was massively limited and is now set for 7 days. 
If users do visit a website again only 8 days later, they are recorded as new users in Google Analytics and are therefore not recognized as one and the same. 
Said duration is even shorter when website visitors come via sources with so-called "tracking capabilities" (gclid from Google Ads, fbclid from Facebook, etc.), because then the cookie lifetime is only 24 hours.
Important: Alternative data stores such as localStorage, Indexed DB or others are also affected by these measures – as well as legally subject to consent. An evasion is therefore not possible (anymore) !

Safari led the way – other browsers follow suit: So 1st party cookies set with JavaScript are not only limited for Apple's Safari, but also for Firefox (ETP – Enhanced Tracking Prevention) and Edge (TP – Tracking Prevention).
Note: Firefox even goes one step further and blocks common tools like Google Analytics or Facebook completely in "Strict Mode".  

As the last big player, Google will massively restrict cookies in its Chrome browser – but not until 2023. Until then, cookies can still be set and used as usual. 
However, this does not solve your problems, even if  Chrome accounts for more than ⅔ of all traffic worldwide. If you don't manage to implement a 1st party data strategy now, your entire MarTech stack will face more and more problems and your entire online marketing will be severely impacted. Google Analytics is your smallest problem… 
Note: You can check the current status of the tracking prevention methods in the individual browsers here: https://www.cookiestatus.com/
Google Analytics and the full impact of Tracking Preventions
The impact on data quality due to ITP & Co is indeed drastic: In Google Analytics (and also all other digital analytics tools), the short cookie lifetime leads to poor recognition of website users and thus to more "new users".
The effect is all the greater the more users allow more than 7 days to pass between two visits (users with tracking capabilities even only 24 hours). 
At the same time, this also means that conversion paths are shorter and attribution models can only be used to a limited extent. Efficient advertising budget allocations thus become impossible. 
Last but not least, the measurement of campaign performance is severely restricted by ITP & Co or is no longer possible at all in Firefox's "Strict Mode".
Conclusion: The data differences between Facebook, Instagram & Co and Google Analytics explode. Data reconciliation is no longer possible!
---
INSUFFICIENT DATA QUALITY
Poor data quality limits the use of Business Intelligence & Advanced Analytics.
Poor data leads to faulty decisions.

---
The full extent of ITP & Co is visible in the following graphic: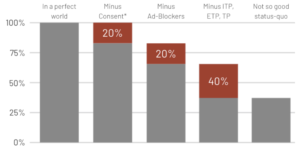 Of the 100% database, 15-20% is lost due to non-existent consents – i.e. website visitors who click on "reject" on the cookie banner. 
Another 10-20% are lost due to measurement inaccuracies caused by ad and cookie blockers as well as misconfigurations. This has always been the case in Google Analytics – keyword: trend analysis. 
That leaves only 60-70% of all data in Google Analytics at best. This is already a small database, but still one with which trend analysis would be possible. 
Since ITP & Co, however, the proportion of users who use tracking prevention in their browsers is also falling away.
The share can be analyzed very quickly within Google Analytics: In the reporting area under Target Group → Technology → Browser and Operating System, you can see which browsers your visitors use to access your website. Add up the percentage of Safari, Firefox and Edge users and you will see the full extent of ITP & Co data loss for your web analysis and your data.
In an online store, which is mentioned here as an example, around 32% (!) of users use browsers with tracking prevention: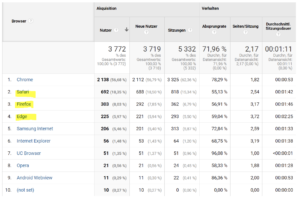 From the remaining 60-70% data which actually arrives in Google Analytics, another 30-40% must be subtracted due to ITP & Co. 
The data basis in this example thus dwindles to only 38% (!). 
38% of the incoming traffic can therefore be captured without restriction.
Conversely, 62% of the data is lost – and that is indeed drastic! Because it is not a valid basis for web analytics and certainly not for business-critical decisions.

Tip: Check the extent of ITP & Co for your website right away (after finishing the ebook). 

But is there no solution?
Yes, there is! Otherwise this ebook wouldn't exist 😉
But first we have to look at the problem behind the problem:
The problem with the status quo: client-side tracking is dead
There are several ways to capture how users interact with your website, and the difference is how the data is collected. The current, conventional method is client-side tracking.
With client-side tracking, the data is transmitted directly from the user's browser (client) to an external server such as Google Analytics. 
The data transfer takes place via small Javascript tracking codes, so-called "tags", which are implemented on the website either natively or via a tag management system such as the Google Tag Manager (GTM for short), as the following graphic shows: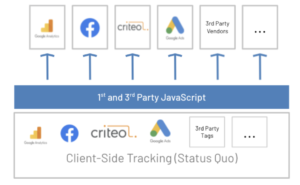 The problem with client-side tracking and thus the status quo is that countless tags (including 3rd party tags) are loaded into users' browsers, and it is often unclear how they actually work. 
However, these tags send valuable data to third parties whose identities are usually unknown.  
This is true for Google tags as well as for Facebook and other marketing pixels. 
Using client-side tracking you don't have complete control over the data sent to the tools. 
Worst of all, this data – YOUR data – doesn't even belong to you! Because you don't possess your own raw data.
Instead, most tools provide you with aggregated data that you can't use for other purposes, such as machine learning. In the age of AI, you are therefore missing the fundamental asset.
---
LACK OF DATA SOVEREIGNTY
Conventional data tracking tools only provide you with meta-data and aggregated results.
Not owning your company's raw data will restrict future competitiveness.
---
We have become accustomed to doing things this way. 
It is the established way.
But this way has even more disadvantages:
Pixel Overhead:

Tracking snippets in the frontend reduce the loading speed of the website. The more pixels, the more drastic the effect. However, page speed is an important ranking factor for search engines. 

Piggybacking:

In the ad serving and affiliate community, it is common for a tag to call up other tags. This gives unknown third parties access to your website data – without your notice. Data leaks, slow loading times and compliance problems are the result. 

Privacy concerns:

Tools from the US and other potentially insecure third-party countries account for ~70% of the market today. Almost every company has at least one, but in most cases several, non-privacy compliant tools, which are actually not allowed to be used in Europe due to the GDPR. 

For this reason, the second way of data collection is becoming more and more popular:
Server-side tracking: The future of website data 
Unlike client-side tracking, with server-side tracking the data is first sent from the user's browser to one's own web server before it is subsequently streamed to Google Analytics, for example, as the following graphic shows: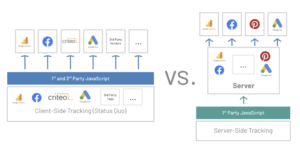 In fact, server-side tracking is hybrid tracking, which takes advantage of client-side tracking and overcomes its disadvantages by adding an additional layer – the server. 
This way, tracking requests are executed on a server instead of directly from client or browser. 
This way, not exactly new but becoming more and more popular due to its many advantages, offers a high level of data sovereignty and control: you decide yourself which data to track and where to send it.
The direct communication of the servers also means that the data cannot be viewed by third-party providers. Piggybacking and black boxes are thus avoided. 
In addition, significantly fewer tracking tags are stored directly in the user's browser. So instead of pixel overhead, there is a significant pixel reduction. This in turn leads to a significant improvement in page speed. Faster loading times also lead to a better user experience – the conversion rate increases. 
Another advantage is the compliance with the DSGVO and ePrivacy basic regulation, since, for example, the IP address is shortened on the own server and thus actually anonymized data is sent to Google Analytics or any other tool.

Important: With client-side tracking with Google Analytics the user's IP address is transmitted to Google and thus to the USA with every collect request. Anonymization only takes place on the Google servers in the USA. Google Analytics is therefore not DSGVO-compliant!


However, the most important thing is the significantly higher data quality in Google Analytics. Due to server-side tracking, ad blockers and tracking protection methods (ITP/ETP/TP) cannot detect the tracking behavior and thus cannot block it. 
The cookie lifetime is again two years.
Important: For data protection reasons, the user's consent is also required for server-side tracking!


Google has also recognized these advantages and launched the Google Tag Manager – server-side (as a beta version) in the third quarter of 2020:
Google presents: The Google Tag Manager - Server-side 
Google's server-side tracking solution also introduces an additional layer – the server, in the form of the server-side Google Tag Manager container. 
So before the data is sent to Google Analytics, it ends up in the server-side GTM container. This looks similar to the client-side Tag Manager container and has tags, triggers and variables. What is new is the "Clients" section:
The client has an important task: all tracking information sent to the server is first received by the client. Its main purpose is to process the received data and put it into a structure so that it can be sent to Google Analytics in the next step. 
Before sending, the client can validate, correct and enrich the data. However, this requires the configuration of a custom client – which requires programming skills.
Since the new GTM container works server-side, it needs an environment – a server – on which it can run. For this, Google offers the Google Cloud App Engine, which underlies a Google Cloud project. 
Now there are different ways on how the GTM server can receive data. One possibility is the data transfer via the Measurement Protocol. 
However, you usually already have the client-side GTM with an extensive tracking setup in use. The GTM server can also receive data via this program. 
Does this solve all the problems? 
Disadvantages: The weaknesses of the server-side GTM.
The server-side GTM solves the ad blocking and tracking prevention problem and ensures data quality for Google Analytics – but currently only for Google Analytics and Facebook, because the server-side GTM does not support other tags yet. 
Tracking tags for other social networks such as LinkedIn or Pinterest, advertising tags such as Criteo or Taboola, and marketing tags such as Hotjar or ABTasty are still affected by these restrictions.
Note: The server-side GTM is still in BETA.


In addition, the data protection concerns remain, because both the infrastructure and the server instances must be used by Google. 
Update: In the meantime, there is the option of a manual configuration, as described here in the Google Developer Guide. Operation in the Google Cloud is also no longer tied to the USA as a provisioning location.


However, the legal difficulty remains that by using the Google Cloud Platform, a contract is entered into with a company outside the EU – even if the contract is concluded with Google Ireland, as this is a 100% subsidiary of Google USA. 
In addition, the setup is technically much more demanding than the client-side variant. It requires programming knowledge  and thus a lot of familiarization time with the Google Cloud platform.
And then there's the cost: unlike the client-side web container, server-side tracking is no longer free!
In conclusion, it can be said that the server-side Google Tag Manager container builds on a solution that 
– is currently still in beta. It can be assumed that it will soon be out of beta. However, the opposite may also happen. It wouldn't be the first time as the Google product graveyard shows.
– is not DSGVO compliant. By using GCP, you are still entering into a contract with a US company (Google), even if the server location of your data is in the EU.
– requires an extreme amount of training time.
– requires an extreme amount of resources for setup and maintenance.
– can be quite expensive. 

But isn't there a solution? 
Yes, there is!
Many roads lead to Rome - one of them is: JENTIS
Many roads lead to Rome, or to put it another way: many options lead to the goal – and this is also true in the area of server-side tracking. There are already numerous options here, and have been for many years.
One option and the one we would like to introduce to you in the following is: JENTIS. 
JENTIS is an innovative technology that also uses all the advantages of client-side tracking and eliminates its disadvantages by adding an additional layer – the server. The result: Hybrid tracking in the form of a plug & play tool. 
All details:
How JENTIS tracking works 
With JENTIS, customer interaction data that is normally streamed directly to Google Analytics or other advertising and storage systems is first routed to the JENTIS-patented "TwinServer" technology, as the following graphic shows: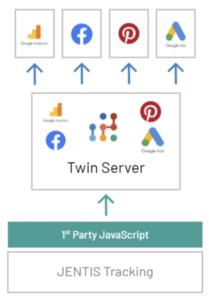 Note: JENTIS can currently be hosted in the Microsoft Azure or A1 Exoscale clouds. Self-hosting will also be possible in the future.

---
THE NEXT GENERATION DATA SOLUTION
Keep your existing tools, unlock their full potential with JENTIS, and open up unprecedented marketing opportunities.
JENTIS. The tool for server-side tracking. Made in Europe.
---
An efficient data model is used to communicate from the front end to the back end. You don't have to worry about a protocol or a format, because all parameters and values arrive on the server following a consistent data model. 
On the server, the user's session is then replayed a second time and a "digital twin" of the original session is created.  
This twin data can be used subsequently in any way 
Sent to Google Analytics or any other analytics tool. 

Directed to any advertising and storage tools. 

Manipulated (anonymization, pseudonymization, data enrichment). 

Used in real-time for machine learning models.

Sent back to the front-end. 
With JENTIS, you have ALL possibilities available for you!!
Additionally: Since the JENTIS cookies are stored server-side, they are untouchable for AdBlocker, Tracking Preventions & Co. 
So your data is 100% fed into your tools like Google Analytics, Facebook & Co. You can therefore provide ALL partners with data completely and with significantly higher quality than before. 
In addition, the cookie lifetime is again two years: Your website visitors can be recognized as usual and thus more precise data analyses can be performed in Google Analytics. 
But does this sound like a complex setup? 
Well it is not:
Setup: Made easy with JENTIS
The biggest hurdles of new tracking approaches are, on the one hand, the technological implementation, such as finding a performance-performant, DSGVO-compliant cloud. On the other hand, organizational challenges such as coordination between marketing and development must be mastered. 
Not with JENTIS. 
Because JENTIS reduces the setup to two easy steps:  
A-record entry on the DNS server

: This is to indicate that JENTIS is running as a subdomain under your domain and is therefore allowed to set 1st party cookies.  

Tracking code

: Similar to client-side tracking, native JavaScript code (JENTIS Tag Manager) must also be implemented on your website for JENTIS. Thanks to the A-Record entry, the JS code is delivered via your 1st party domain and is therefore safe from AdBlockers and tracking preventions.
Important: JENTIS must not be implemented on your website via the Google Tag Manager or other tag management systems, as these may already be blocked by tracking preventions.


Once you have completed these two steps, the JENTIS system will automatically finalize your cloud setup and you will have access to the JENTIS Tag Manager. 
With the JENTIS Tag Manager, you can now fully concentrate on data collection and create your tracking tags, similar to Google Tag Manager or any other tag management system: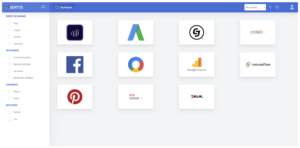 The JENTIS tracking tags are client-side Javascript codes that allow you to capture any parameters and user interactions on your website: From active website clicks to scrolls. From CSS selectors to dataLayer pushes. Exactly the same as before!
The big advantage: With the JENTIS Tag Manager, you have only one tool or container in use that combines both client-side and server-side tracking. It provides you with the best possible organization of your tracking tags!
Note: With Google Tag Manager, you need one container for the previous client-side tracking and another container for the server-side tracking. With JENTIS, you only need one tool.

The JENTIS Data Quintet
JENTIS consistently follows its data promise, because we are convinced that we can provide you with the best data for your website. 
This is what we call the JENTIS Data Quintet:
Data Quantity – More Data
Data Quality – Better Data
Data Protection – Compliant Data
Data Sovereignty – First Party Data
Data Orchestration – Distributed Data

With only one additional tool, you get the following benefits:
Data quantity – More data
With JENTIS, you (finally) get back all the data you are rightfully entitled to. 
By means of AI-supported tracking infrastructure, "Tracking Preventions" which prevent the sending of data streams (e.g. Adblocker, Firefox, Edge), can be avoided. 
This way you can see again what is really happening on your website from all your visitors and not only from a part, which would not be representative for an extrapolation to begin with.  
Let's take a look at the uplift thanks to JENTIS using an example – an online store. 
Due to Tracking Preventions & Co, the data from Safari, Firefox and Edge from Google Analytics cannot be trusted. Users are not recognized and therefore this data must be deleted from the analysis. The quality of the data thus drops significantly WITHOUT the use of JENTIS: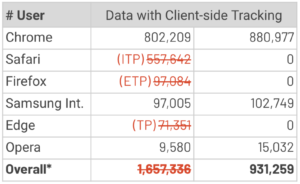 Now, instead of client-side tracking, the new JENTIS server-side tracking technology is used and the figures compared: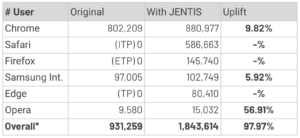 For a better presentation of the extent of this uplift, we compare the figures again and compare them graphically with bar charts: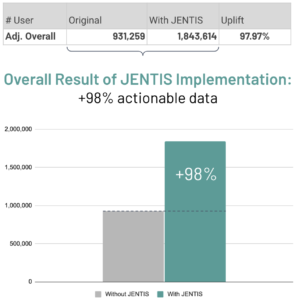 Overall, the data uplift for this online store is: +98%. 
The use of JENTIS therefore significantly increases the data basis in Google Analytics. 
 Note: The uplift varies depending on the industry and company.

Data quality – Better data
More data also means better data quality and thus the best possible basis for business-critical decisions, especially with regard to the customer journey. 
WITHOUT JENTIS, your customer journeys cannot be mapped, because Google Analytics and all other analysis tools are blind in one eye: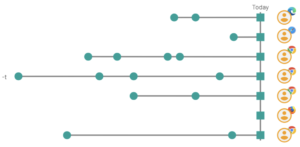 With JENTIS, the full extent of ITP & Co becomes visible as your customer journeys become complete again: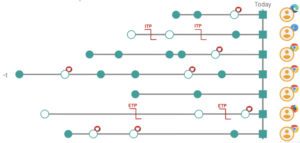 Data protection – Compliant data
In order to have its raison d'être in the current martech stack, JENTIS has also put considerable effort into data protection. 
Accordingly, not only is JENTIS itself compliant with the GDPR, but it can also make other tools that would not be compliant with the GDPR on their own, such as Google Analytics, legally compliant. How?
With JENTIS, all data is first sent to JENTIS' own twin server. Any changes, such as anonymization, pseudonymization and data enrichment, can be made there. 
Only then is the data sent on to third-party providers. 
With the pseudonymization and anonymization of your data, tools from unsafe third-party countries can be used in your MarTech stack in a fully compliant manner.
 Bonus: With JENTIS, you have the option of sending data to Google Analytics & Co. data without consent. The magic word? Anonymization.

Data sovereignty – First

party data 
Another big advantage of JENTIS: 1st party data!
The death of 3rd party cookies will cause problems for many companies at the latest  in 2023. In one swoop, the 25-year era of technology that was essential for user recognition will end. With JENTIS, you can start preparing for this transition now, because we help you collect all your 1st party data. 
More specifically, JENTIS lets you control what data is collected and orchestrated to your tools in the first place, as the following graphic illustrates: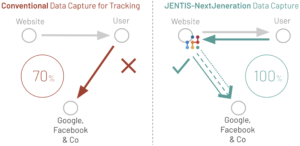 Data orchestration – Distributed data
With JENTIS, it's not just Google Analytics and all the other marketing platforms you use in your business that benefit. With JENTIS, you can easily forward your data to all analytics, advertising and storage tools on the server side.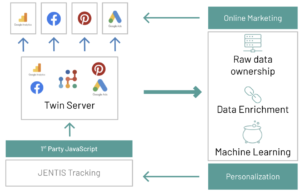 Because of our unique technology structure, two new possibilities come into play here: 
One is Data Enrichment: where various connectors can be used to enrich the tracking data with additional information before passing it on to your MarTech stack. 
Second, machine learning models can also be trained on the server side. For example, we have already led successful projects in the areas of lead scoring, clustering and check-out personalization for our customers. 
Sounds excellent  right? But let's answer one last question: What does JENTIS cost?
Pricing: That's what JENTIS costs
In a nutshell, you can start using JENTIS today for as little as €149 per month. 
Note: Pricing is based on the number of events you need for your tracking plus the number of pixels implemented through JENTIS.

---
Want to know more about our Tracking? Get in contact 👇