Intro
As digital marketers, we are highly reliant on data to figure out which channels and tactics are performing and where we need to shift budget or adapt our strategy. If you work on a website or product, website tracking and product analytics are a fundamental part of your daily life. In this respect, tracking is what helps you optimize a site, fix bugs, improve UX, and achieve business growth. 
Why is website tracking important?
There's an old business adage that whatever is worth doing is worth measuring. Website tracking and analytics help companies measure and benchmark key performance indicators that drive business growth. We as marketers constantly need to use website tracking for:
Traffic tracking to measure website traffic, e.g. with Google Analytics, Adobe Analytics, Matomo, Piwik PRO, Mixpanel

UX tracking to measure user behavior and improve user experience, e.g. with Hotjar, Crazy Egg, Clicktale, MouseStats, Kissmetrics

Preference tracking to store individual site settings, e.g. shopping carts and login details

Advertising tracking to measure the performance of ad campaigns, e.g. Facebook ads, LinkedIn ads, TikTok ads, Google Ads

A/B  (also referred as multivariate testing) and split testing to help determine which variations of a website page have the highest success rates among visitors.

And this tracking helps us to:
See where visitors click, tap, and scroll on a page

Know if users are browsing on desktop or mobile

Find our best- and worst-performing pages

Optimize landing pages for conversion

Compare our website traffic

Measure the success of an email marketing campaign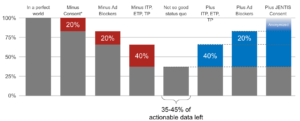 Which data can be generated?
Campaign Data
Which keyword searches result in the site visit

Which website pages referred the most traffic

Which campaigns drove the most traffic

Campaign medium breakdown
Audience Behavior
Bounce rate

Number of pages per visit

Length of time spent per visit

Frequently visited pages

Common exit pages

Common landing pages
Audience Data
What does website tracking improve?
Website tracking leads to improved metrics like CTR (click-through rate), bounce rate, or conversion rate, and increased sign-ups and sales. Website tracking also helps marketers to measure the performance of marketing campaigns, including Search Engine Optimization (SEO)  performance, as well as gain valuable insight to help with decision-making based on data gathered.
To put it in the most simple words, without tracking and data collection all these activities are not possible and your decision making is limited. With far reaching consequences.

Which metrics to monitor closely & accurately?
The goal is to focus on those metrics that are directly associated with your return on investment.
Leads
It's crucial to understand where your leads and customers are coming from. Know how your leads are finding you, how they interact with your websites, and where they're getting 'caught' in your sales funnel. 
Conversion Rate
There's no doubt that traffic and website visitors are important. Website visits mean nothing unless some of those people are converting into paying customers.
Bounce Rate
Analyze the bounce rate for each of your website's pages. That way, you can see what actions people are taking next after arriving at each page. Focus on pages with higher bounce rates and see what's working on the pages that have a low bounce rate.
Exit Pages
Remember a bounce is when someone lands on your site and leaves after visiting one page. An exit is when someone visits a number of pages on your site and then leaves. Some of your site's pages will naturally have high exit rates. But if you notice that some other pages have high exit rates, you should examine these pages on issues.
How is website tracking changing in 2022?
Website analytics is hugely helpful when it comes to creating a strong marketing strategy and growing your business. Reliable data collection is the foundation of every data-driven marketing strategy. Client-side website tracking is becoming more restricted and unreliable due to legal and technological limitations such as data privacy and compliance regulations.
To stay competitive in the upcoming cookieless and privacy-first world you need to adapt and already start testing and implementing new website tracking technologies such as server-side tracking and hybrid tracking. Check out this blog-post on how to select the right tracking technology for your business.