DPO Brunch
A prominent panel of experts explains how to deal with the recent decisions of the European Data Protection Authorities
This year compliance with international data transfers requirements under the GDPR has been on top of the agenda for the majority of privacy professionals. Starting with the Austrian Data Protection Authority decision regarding Google analytics, followed by (French) CNIL and (Italian) Garante rulings, the topic does not seem to become less controversial.
We decided to invite the privacy professionals directly engaged in the topic in these three jurisdictions to discuss how these rulings affect everyday life of the DPOs and privacy professionals in the EU. It has been several months of implementation of these decisions into the realities of the market.
What have we learned from this process? What are the common strategies to deal with the challenges of application of the privacy laws and the legal risks associated with uncertainties brought by these decisions? What can we expect from the regulators in the future? How do we stay agile but compliant? These are only a few of the questions we want to talk about during our DPO Brunch. Most importantly, we want to spark the exchange of ideas and most effective strategies employed by the best in the field of data protection and privacy.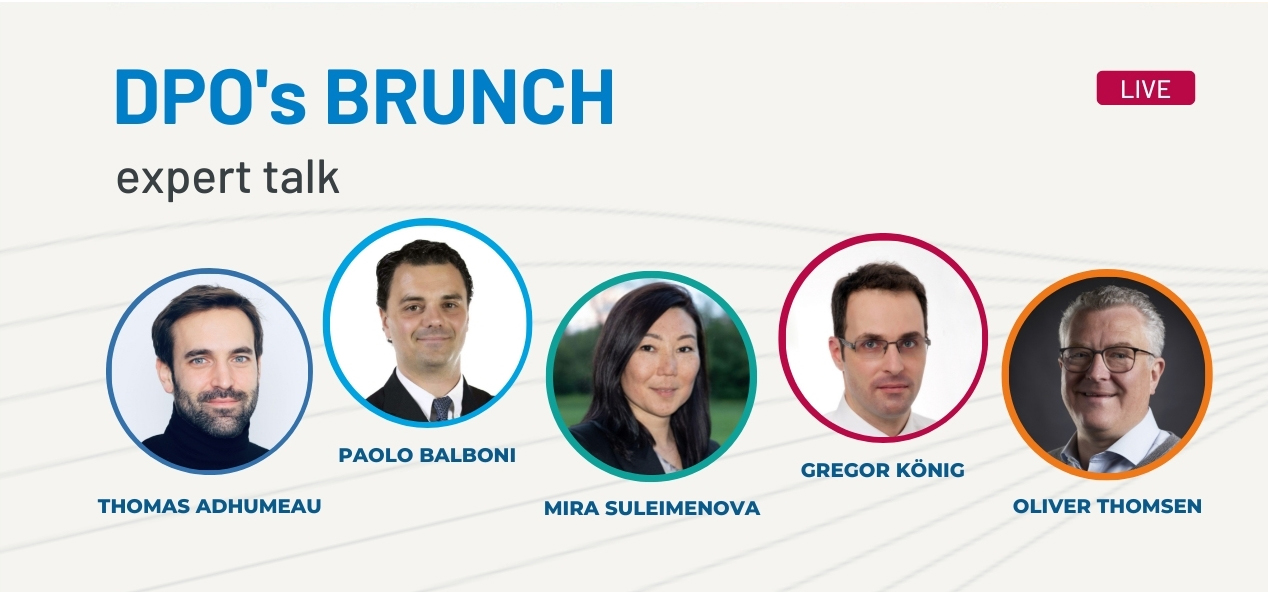 Guest speakers
Dr. Gregor Koenig, Group Data Protection Officer, Erste Group Bank AG
Since 2014 Dr. Gregor König is the Group Data Protection Officer, Erste Group Bank AG, largest Austrian bank. Previously he has been working for many years in a management position at the Austrian Data Protection Commission and since mid-2010 also as its deputy managing member. He is alos (substitute) member of the Data Protection Council, lecturer at the University of Vienna and at the University of Applied Sciences Burgenland and published numerous publications on data protection.
Mr. Thomas Adhumeau, Chief Privacy Officer at Didomi
Thomas Adhumeau is CPO at Didomi, a SaaS company that builds bespoke consent & preference management solutions to create value with trust. A Certified Information Privacy Professional by IAPP with experience both in law firms (Bensoussan, White & Case and Taylor Wessing) and the corporate world (AppNexus, S4M), Thomas brings to Didomi an expertise in running a global compliance program, as well as in helping their product team develop products and features that fit their clients' needs and meet local market regulations requirements (GDPR, CCPA, VCDPA, LGPD and PIPL, to name a few).
Oliver Thomsen is the General Counsel of CEWE Stiftung & Co. KGaA
Among other things, he is responsible for the legal aspects of IT and e-commerce law, as well as data protection.
He is also Vice Chairman of the Deutsche Stiftung für Recht und Informatik (dsri), which promotes the university and professional education of lawyers and computer scientists dealing with issues of information law and legal informatics and organizes the Herbstakademie, one of the largest annual conferences in this field of law in Germany.
Dr. Paolo Balboni (qualified lawyer admitted to the Milan Bar and the Amsterdam Bar) is a Founding Partner of ICT Legal Consulting (ICTLC), a law firm with offices in Milan, Bologna, Rome, Amsterdam, Athens, Helsinki, Madrid, Melbourne and Partner Law Firms in more than 40 countries around the world. He is also Founding Partner of ICT Cyber Consulting, a company specialising in information/data security. Paolo Balboni is Co-Chair of the Cloud Security Alliance Privacy Level Agreement (PLA). Recommended Lawyer ranked by The Legal 500 EMEA 2022 in the areas of Data Privacy and Data Protection and Industry Focus: TMT.