Cookieless tracking?
No problem!
How to make great marketing again with server-side tracking – and even in compliance with data protection laws.
Leading companies trust JENTIS
ADVANTAGES
One Platform for all Requirements
A clear view of your customers
How the Data Capture Platform increases your data quality.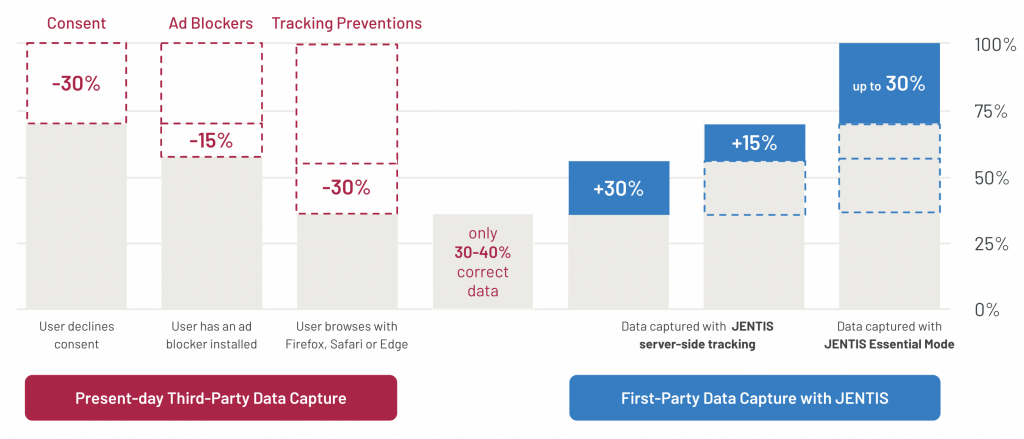 Core components
The JENTIS Data Capture Platform is a comprehensive solution designed to empower businesses with
advanced server-side tracking capabilities. It comprises a set of central components that work seamlessly together
All core components
The trust of our customers in our products and services is a top priority for LIBRO and PAGRO DISKONT. The correct handling of data is just as important to us. We do everything in our power to use our data in a DSGVO-compliant manner, and the team from JENTIS absolutely convinced us with its data solution. In addition to great technical expertise and a great product, we were also convinced that JENTIS was a perfect fit for us. Because, like LIBRO and PAGRO DISKONT, it is an Austrian company - we are happy about this wonderful, Austrian solution.
Ulrike Kittinger
Geschäftsführerin Libro & Pagro DISKONT (MTH Retailgroup)
In the financial sector, trust is an indispensable prerequisite for a successful customer relationship. For us, this also includes the trust of our customers that their data will be handled in a legally compliant manner at all times and that it will be protected in the best possible way. With the JENTIS solution, we now have the opportunity to optimally combine data value creation and data protection.
Olaf Peter Poenisch
CEO Santander Consumer Bank Österreich
Together with JENTIS, we are taking our online marketing to the next level. We were impressed with 100% website analytics data. The raw data from JENTIS is a valuable part of ensuring the best service for our clients.
Alina Lauchart
Marketing & Communication - Promedico
JENTIS is a great tool that specialises in website data collection. We have added it to our current marketing stack and have seen impressive results. JENTIS' data capture is not only more accurate and complete, but also gives us the raw data in real time. JENTIS is our next step towards digital competitiveness. We want to achieve data sovereignty and finally decide which 3rd party tool really gets which data. JENTIS does that and much more.
Patricio Hetfleisch
Leitung Marketing & Kommunikation - Tirol Werbung
In 2021 compliant tracking has become a priority to Forum Verlag. Because of the GDPR and E-privacy directive we looked for a technology which could help us in tackling data compliance. JENTIS is our partner of choice. It requires consent like any other tool and has unique advantages for us because of pseudonymisation.
Forum Verlag - Alexandra Vetrovsky-Brychta
General Manager - Forum Verlag
JENTIS is the logical European solution for data control and quality in today's digital world. The innovative server-side tracking technology allows us to have absolute control over the data flow before we forward the data to Matomo. Thus, we can achieve DSGVO compliance and 100% data quality.
Jo Rogner
Leitung IT - Compass Gruppe
JENTIS offers comprehensive server-side tracking that works well with usercentrics. With the elimination of third party cookies, many of our customers have asked for a tracking solution that can keep up with the current changes in the industry. At usercentrics, we believe that JENTIS offers a strong server-side solution that is also aligned with our product. This way we can offer our customers the perfect balance between marketing and compliance.
Advanced features
Maximizing data quality and performance is crucial for effective decision-making and optimized marketing strategies.
With JENTIS, you gain access to a suite of innovative solutions designed to provide comprehensive insights into your data.
All advanced features
Know-How
Articles & Events