JENTIS for E-Commerce
Dwindling data quality, privacy issues and the end of third-party cookies: JENTIS solves your e-commerce challenges.
In e-commerce, it has become essential to understand your customers' behavior, optimize your marketing efforts, and improve the overall customer experience.
To achieve these goals, accurate web tracking is essential. But traditional client-side tracking has significant limitations. With client-side tracking, factors such as tracking prevention in browsers and ad blockers have a massive impact on the data collected. Inaccuracies and gaps in customer journeys lead to false attribution and ineffective campaigns.
Cookieless era begins: companies must have switched to server-side tracking by 2024
In addition, Google will end support for third-party cookies in Google Chrome, the world's most popular browser, in 2024. Companies that haven't switched to server-side tracking by then will have a hard time collecting accurate and legally compliant data, which could put them at a significant competitive disadvantage.
Server-side tracking is the core technology of the cookieless era. It is more accurate and reliable than traditional client-side tracking by collecting first-party data. It takes place on the server, unaffected by tracking blockers, and thus provides a complete overview of user behaviour.
High-tech data capture, hosting included
The JENTIS Data Capture Platform (JENTIS DCP) provides you with the most sophisticated server-side tracking technology currently available on the market.
Our DCP not only offers you high-tech data capture from intensive, years-long development. We also take the hosting, infrastructure, monitoring and maintenance off your hands so you can focus on what matters most: Customer and revenue growth through better data.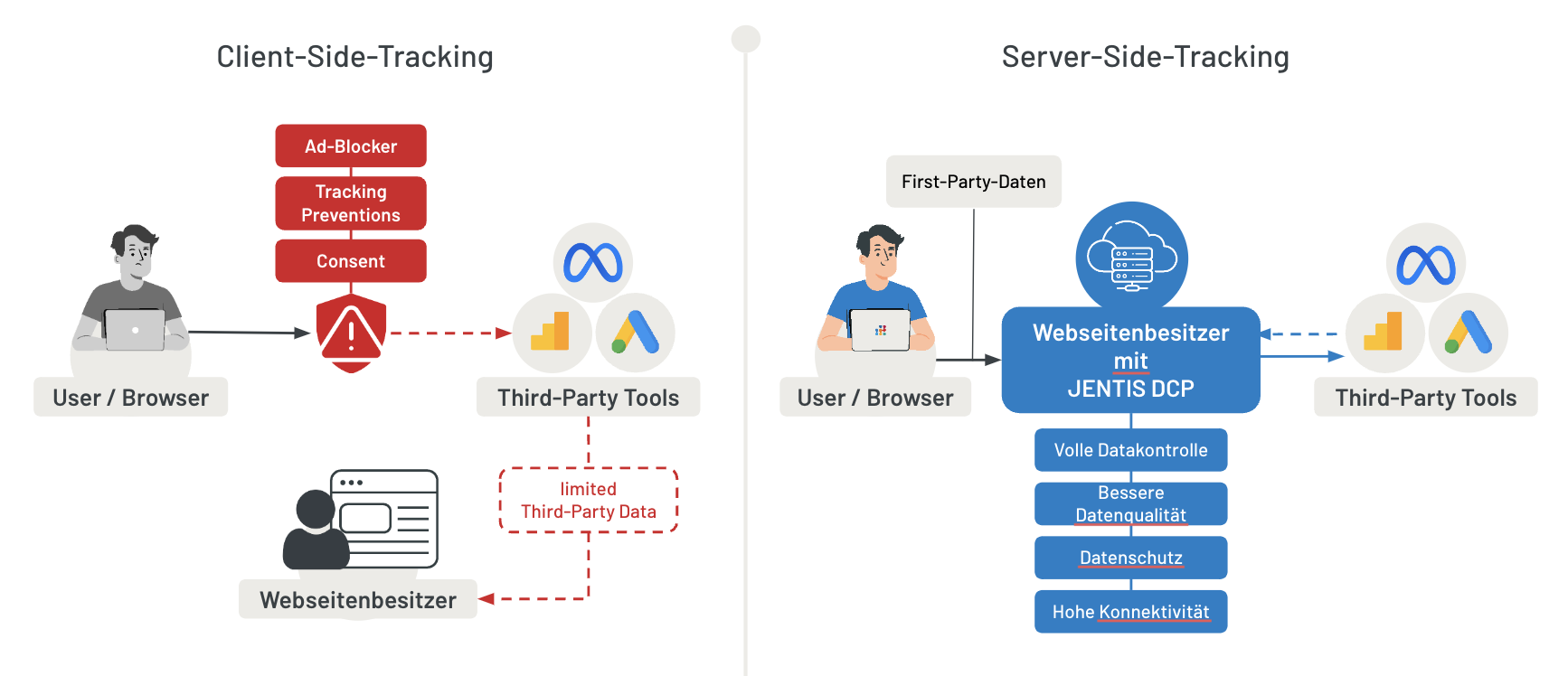 Better data quality for better decisions
The accuracy of data is determined at the very beginning of the value chain: when it is captured. With the JENTIS Data Capture Platform, you can complete customer journeys, better measure conversions and make more accurate attributions.
Full data control and ownership
The data you capture with JENTIS is yours. You control what happens to the data – not, as in the past, third-party marketing and analytics tools. With JENTIS, you become independent of the tech giants and can flexibly adjust the level of data protection depending on your use case.
Seamlessly connect your CMP with JENTIS
In just a few minutes, integrate your existing Consent Management Platform (CMP) to automatically pass your users' consent to your Data Capture Platform. No need to change your CMP to capture first-party data.
GA4 fully server-side for e-commerce
JENTIS Data Capture Platform is the first solution to offer full server-side integration of Google Analytics 4 for e-commerce applications. With JENTIS DCP, you get the data quality of our server-side tracking, the unrivaled data protection of our privacy solutions, and the reporting power of GA4 in one fell swoop.
Integrations you can rely on
Over 100 tested and maintained integrations also ensure that JENTIS DCP fits seamlessly into your existing technical system. This saves you from having to switch to new marketing and analytics tools.
Switch to server-side tracking and gain a competitive advantage
If you make the switch now, you'll enjoy key competitive advantages. Since our DCP masters hybrid tracking, i.e. server-side and client-side tracking simultaneously, you can make the switch to server-side tracking with JENTIS flexibly and in phases and continue to use remarketing campaigns, for example.
---
Contact us now for a potential analysis for server-side tracking on your website!