12. May 2023
What is Server-Side Tracking?
A detailed overview of server-side tracking for online marketers and web analysts. Learn if it is the right fit for you and your marketing.
Traditional tracking on the web faces significant challenges: 
Decreasing data quality: It is disturbed and blocked by adblockers and tracking preventers – you get much less and even more wrong data for your marketing.
A lack of data control: It captures extensive user data on your website, but it happens outside of your control – often, you don't own your valuable data; your third-party providers do.
Strict data protection requirements: It poses a high data protection risk because personal data reaches third-party providers uncontrolled.
What is server-side tracking?
Server-side tracking captures website data on a dedicated server rather than in the user's browser (the "client"), as is the case with traditional tracking. Server-side tracking captures data unaffected by adblockers and tracking prevention. This means that you receive far higher-quality data.
After capturing the data on your own server, you can modify it and forward it to existing analytics and marketing tools as required. This way, you remain in control of the data, prevent dependence on third parties and determine the level of data protection yourself – without having to change your existing tools.
Client-side tracking explained
Traditional tracking (client-side tracking) is usually done by third-party providers (e.g. analytics tools, social media platforms, …) that collect valuable raw data on your website but often only provide them with limited, aggregated reports.
This tracking works technically through javascript tracking codes on the web pages, executed directly in the users' browsers. However, the tracking codes can easily be blocked by adblockers. In addition, they artificially inflate the size of your web pages and slow down the page loading times.
With Server Side Tracking, you eliminate the disadvantages of conventional tracking and get the basis for future-proof data strategies in a privacy-first context.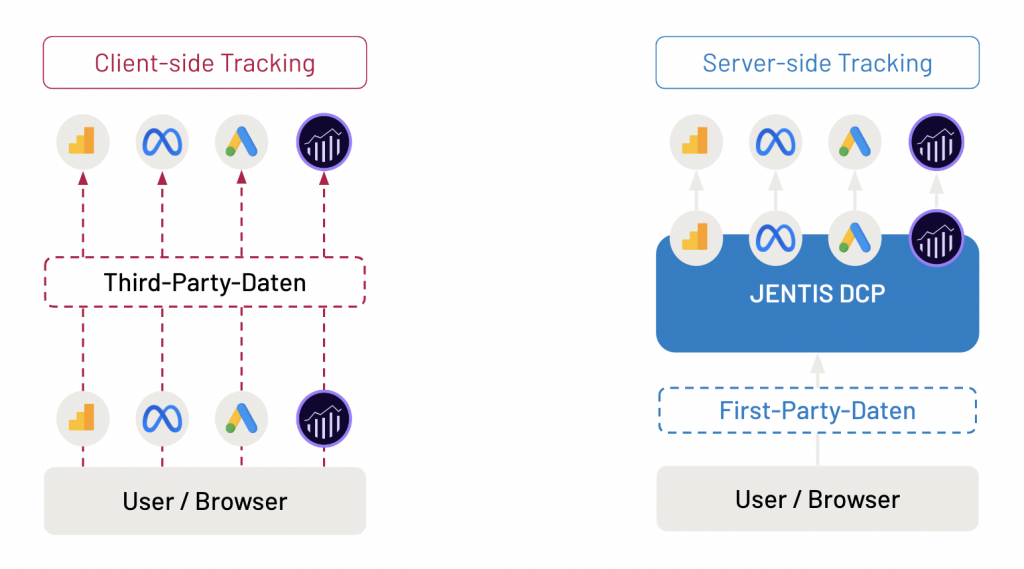 Your other advantages with Server Side Tracking
Improved page load times
With server-side tracking, your web pages load significantly faster. Instead of many JavaScript snippets, you only need one pixel on your website. This improves performance, increasing customer satisfaction and better Google Core Web Vitals scores. The result: More traffic, more conversions and higher customer satisfaction. 
Quick and easy setup
JENTIS server-side tracking is optimised to be set up rashly and reliably for our customers. To use JENTIS, all you need to do is add an A-record to your DNS and include a JavaScript code. From that moment on, JENTIS takes over the management of the infrastructure and performance in the background.
Managed service
Many server-side tracking solutions require a high use of resources. With JENTIS, you can rely on system scalability and maximum stability. We take care of all the technical requirements for you, monitor performance and ensure maximum availability in the background – so you can concentrate on the most important things.
At a glance: Client-side vs. server-side tracking
Disadvantages of client-side tracking
❌ Adblockers and tracking preventers hinder data collection
❌Lack of data control
❌High privacy risk
❌Dependence on third-party providers.
Advantages of server-side tracking
Track unaffected by adblockers and tracking preventers
Full data control and raw data
Simply comply with data protection requirements
Independence and future-proof first-party data strategy
---
Are you ready for server-side tracking? Get our free checklist with everything you need to know!