12. February 2023
What is Server-Side Tracking?
Online marketers and web analysts agree - 2023 will be the year for server-side tracking. We answer the most important questions about the new tracking technology.
In recent years, more and more problems have arisen with traditional client-side tracking:
Tracking preventers and ad blockers limit data quality
DSGVO and ePrivacy pose legal risks for companies
Tracking setups are becoming more and more complicated
Privacy is more important for end customers than ever before
Due to the final elimination of third-party cookies in the coming year, digital companies are on the lookout for solutions. Frontrunners have already found an attractive solution in server-side tracking. Many more are following suit. The rest will have to make the switch this year to avoid big data losses in 2024.
For all those who want to find out more about server-side tracking, or are currently in the process of evaluating providers, we have summarised the most important aspects in this blog post:
Online marketers and web analysts will find answers to the following questions:
What is server-side tracking?
What are the benefits of server-side tracking?
What to watch out for in an implementation?
What is the best server-side tracking solution for your business?
Summary
What is Server-side Tracking?
Before we can answer these questions, a quick recap on traditional client-side tracking. In this type of tracking, data is transmitted directly from the user's browser/end device – called a client – to an external server like the one used by Google Analytics or Facebook. The data transfer is enabled by small javascript codes called "pixels" or "tags". Most importantly, each pixel collects data for itself in client-side tracking, resulting in many individual data streams.
How does server-side tracking compare?
With this technology, a single JavaScript code is built directly into the website that is responsible for collecting the data. Instead of sending the data directly to Google, Facebook & Co, the customer data is first sent to a tracking server. From there, the data is then forwarded to the various tools.
This graphic illustrates the difference: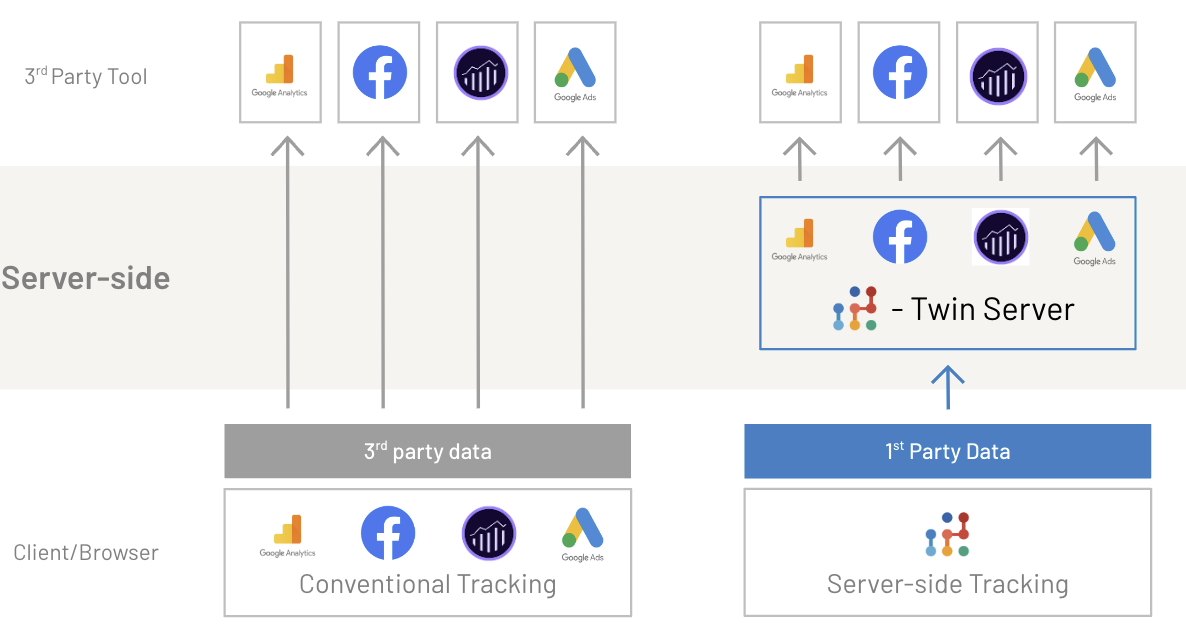 What Benefits can be unlocked with Server-side Tracking?
For a long time, client-side tracking was the preferred method of data collection – but that's starting to change. Each approach comes with different advantages and disadvantages that online marketers and web analysts should be aware of.
Advantages of Client-side Tracking
Large spectrum of behavioural data can be tracked (Scrolling, clicking, etc.).
The standard in online marketing
Easy to set up
Flexible use
Inexpensive/free of charge
Disadvantages of Client-side Tracking
❌ Ad blockers and tracking preventers hinder data collection
❌ Third-party data dependency
❌ Data privacy issues
❌ A lack of data control
❌ Raw data ownership rarely given.
Advantages of Server-side Tracking
Remain unaffected by ad blockers and tracking preventers
Future-proof first-party data strategy
Cookieless tracking
New privacy options
Full data control and raw data
Data enrichment
Disadvantages of server-side tracking
❌ New technology with new learnings
❌ Higher complexity
❌ Dependency on data layer
❌ More difficult connector development
❌ Server operation must be guaranteed
❌ Higher costs, e.g. for server operation
What to consider when implementing server-side tracking
Just as with pure client-side tracking, there are also separate tag management systems for server-side tracking, via which the tracking is controlled.
These are similar to their predecessors in most respects. There are still tools, tags and triggers to implement. There is also the connection to the Consent Management Platform (CMP) to consider.
The biggest change is actually the data logic. Before you can pass data to tools in server-side tracking, you have to capture it. Every vendor solves this a little differently, and while it's not a difficult task per se, it does require some rethinking.
In principle, the following points need to be considered on a technical level:
How will the tag manager be implemented on the website?
How and where will the solution be hosted?
Which tools can be installed on the server side?
How many events do I need to 1) capture and 2) forward server-side?
How can I link the server-side tracking to my CMP?
Is my data layer well-built? (This point is often underestimated)
As you might suspect at this point, the implementation of any server-side tracking solution is a migration project.
This involves rebuilding tool by tool, all tags and triggers on the server side, checking the data quality and then routing the data via the server-side tracking to the desired tool, such as Google Analytics.
Depending on the complexity and the technical requirements, such a project can take between 1-8 weeks.
Two Extremes: Which is the best Server-side tracking Solution for your Business?
We can now compare two different approaches to server-side tracking.
On the one hand, there is the "do-it-yourself approach". There are open frameworks for this, such as from Google (SS-GTM). As the name suggests, you have to invest a lot of time and work yourself here.
Specifically, this means:
You have to host the solution yourself and maintain it 24/7.
You have to develop and maintain the tool integrations (mostly) yourself.
You have to develop and maintain the CMP link yourself.
Support is mainly provided by the community (agencies can also take over these tasks).
On the other hand, there is the "managed service approach" to server-side tracking. Here, companies provide complete products that take over quite a few tasks as part of the service.
Specifically, this means:
You don't have to worry about hosting and monitoring.
You do not have to take care of the tool integrations.
You don't have to take care of CMP linking
Support is provided by a helpdesk or a personal contact person, depending on the SLAs.
The promise of such a server-side tracking solution is clear:
The customer can continue to focus on tracking in Tag Manager and enjoy the benefits of data quality and data control, while quite a few necessities are taken care of in the background by the service provider.
Summary
1. Data capture must change in the future.
2. Client-side web tracking is becoming more limited and unreliable due to data quality and privacy issues – these limitations will continue to grow.
3. Server-side tracking allows organizations to continue to collect data in the best way possible, retain full control over it, and determine with whom they share the data.
Are you interested in server-side tracking? Are you considering switching to this technology in 2023?
If so, the JENTIS Potential Analysis for server-side tracking might be just what you need. In 30 minutes, our experts will show you your potential when switching to server-side tracking and what to watch out for.