Beyond GDPR: How to navigate the global data protection landscape
Since GDPR, new data protection laws are coming into force worldwide. This webinar will teach you how to stay compliant in the global landscape.
Since the European General Data Protection Regulation (GDPR) came into force, new data protection regulations have come into force worldwide. For companies, this development may require different behaviours and compliance levels from country to country. Some, like China's PIPL or India's upcoming data protection law, significantly differ from what companies are used to under the GDPR.
In his talk Alessandro Di Mattia of Privacy Rules will provide a cross-country overview of privacy regulations and share insights on approaching and dealing with the new legislation in critical global markets.
This talk was recorded during the event "Heroes of Data & Privacy" 2023.
About Alessandro di Mattia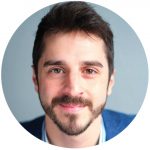 Alessandro Di Mattia helps coordinate the international activities of Privacy Rules, a global alliance that now covers over 60 countries around the world with experts in law, cybersecurity, and cybercrisis communications. In addition to assisting in the coordination of activities, Alessandro researches and produces content and materials on privacy-related topics with an international perspective.
Save the Date: Heroes of Data & Privacy 2024 
Don't miss this unique opportunity to be at the forefront of the next edition of Heroes of Data & Privacy, May 14-16, 2024 in Vienna. Register now and be among the first to receive exciting updates, early access and all the important information.
We look forward to seeing you there!
Nudging, Dark Patterns and other problems: How to design a Consent Banner
In this webinar, Carolyn Loy goes over the 5 most common mistakes with Consent Banners and gives a practical demonstration of how to design legally valid banners for websites and apps.
App Tracking Transparency between Data Protection & Competition Restriction
One of Europe's leading experts on competition law in digital markets provides exciting insights and assessments on Apple's App Tracking Transparency (ATT).
World Premiere: Unleashing the Power of Synthetic Users with Game-Changing Technology
Discover how synthetic users, representative of real users, can unlock complete web traffic data, regardless of user consent.